St. John's United Church of Christ is a historic church in Boalsburg that is home to the oldest pipe organ in Centre County.
The early settlers of the county included members of the German Reformed and Lutheran faiths. They initially met in a school house in Oak Hall. Among the circuit ministers who served the congregations was Henry Rossman.
Rossman was born in Germany in 1753 and fought for the British during the Revolutionary War. He was captured during the war and stayed in America, settling in Lancaster County. His father had been a German Reformed minister and Henry was ordained in 1812. Soon after, he became the pastor of all the Reformed churches in Centre County. (Rossman is buried in the cemetery of Emmanuel Union Church.)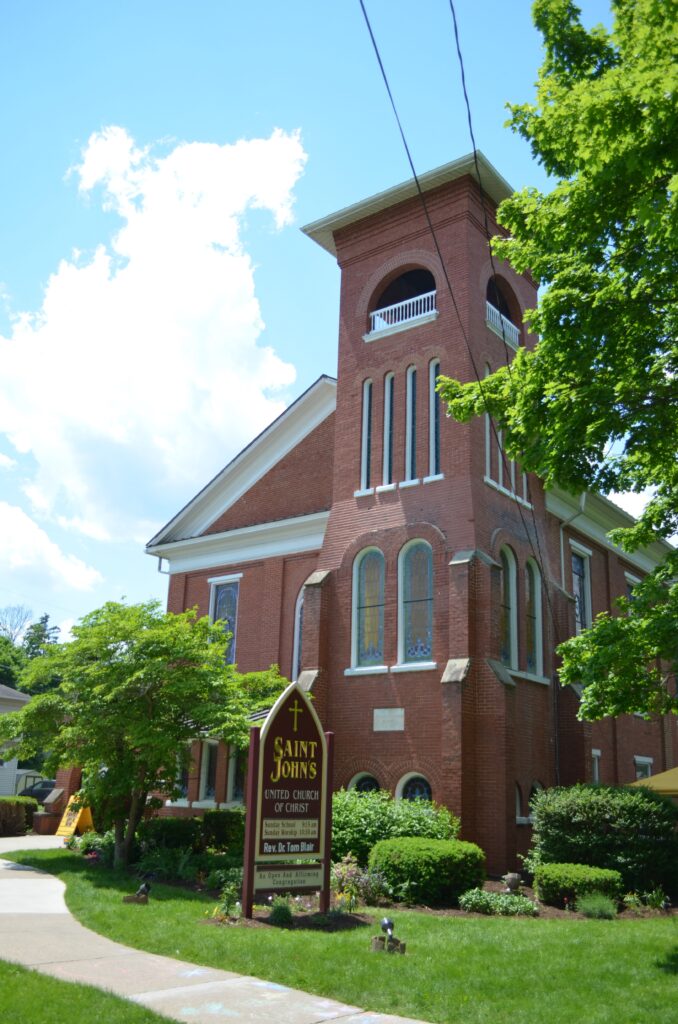 Under Rossman's leadership, St. John's organized as German Reformed congregation on May 31, 1822. The Lutheran congregation organized the next year. On June 6, 1825, the two groups laid the cornerstone of the present Zion Lutheran Church in Boalsburg, and it was dedicated on August 4, 1827. Both congregations contributed to the cost and maintenance of the church, but they held separate services.
By 1860, the German Reformed congregation had grown to about 100 members and they decided to build their own church. They purchased property across the street and a new church was dedicated on May 18, 1862.
The two-story church with a steeple was built with red brick made from clay dug in the surrounding area. A small reed organ was used for several years. In 1868, a pipe organ built by Charles Durner of Quakertown was installed.
By the turn of the century, the congregation had grown to about 200 members and the church needed to be remodeled. The steeple was replaced with a bell tower. New entrances to the church and sanctuary were built. Stained glass windows replaced the original terra-cotta windows. The organ was moved from the back of the church to the front.
St. John's merged with the Evangelical Synod of North America in 1934, and then with the Congregational Church in 1957 to become the United Church of Christ. For many years, St. John's was part of the Boalsburg Charge that included Pine Grove Mills, Pine Hall, and Houserville. In 1965, members voted to create two congregations: St. John's and St. Peter's in State College.
Throughout the 20th century numerous improvements have been made to the church. The pipe organ has been restored several times, most recently in 1990.
In anticipation of the 200th anniversary, the church underwent another extensive renovation that included replacing the roof and cleaning the stained-glass windows. The congregation celebrated the milestone in 2022.
Ford Risley
---
Sources:
Centre Reporter, November 6, 1902.
St. John United Church of Christ, 175 Years of Service. Boalsburg, PA, 1997.
Linn, John Blair, History of Centre and Clinton Counties. Philadelphia, 1883.
---
First Published: June 6, 2022
Last Modified: July 10, 2022