Harmony Forge, built in 1795 near Milesburg, was one of the first iron forges to operate in what would become Centre County. It flourished as a diversified ironworks but closed in the early 20th century. A mansion built on the site is on the National Register of Historic Places and is currently operated as a bed-and-breakfast inn.
Colonel Samuel Miles, James Dunlap, and Colonel John Patton built Harmony Forge to operate in conjunction with the Centre Furnace, which they had opened in 1792. The name "Harmony" reflected the idea that the two furnaces worked together.
Miles was a Philadelphia business and political leader who had served in the Colonial Army during the Revolutionary War. Attracted by the vast resources of central Pennsylvania, he bought 9,000 acres in Brush Valley, today's Miles Township, in the 1770s. He later purchased land along the Bald Eagle and Spring creeks.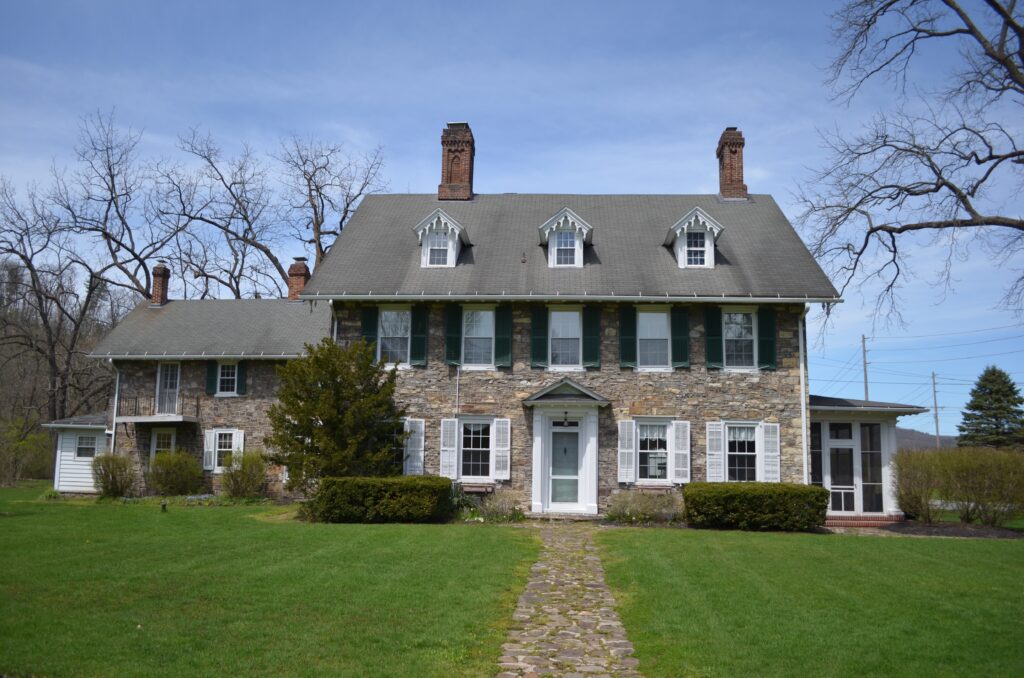 Miles never lived in Centre County, but he sent his sons, John and Joseph, to manage his iron interests. They laid out the village along the Bald Eagle and Spring creeks that would become Milesborough, the name later changed to Milesburg.
When Miles died in 1805, his sons assumed control of Harmony Forge and Centre Furnace. Joseph Green Sr. joined the operation. Four years later, they decided to close Centre Furnace and focus on Harmony Forge.
There they built a rolling and slitting mill, a grist mill, and a saw mill. By 1826, Harmony Forge had become one of the largest ironworks in the county, and its owners added a nail factory.
Starting in 1830s, Harmony Forge had a series of owners. They included James Irvin and Andrew Gregg Jr. When Gregg retired in 1849, James Harris Linn, J. M. McCoy, and Moses Thompson became partners with Irvin. In 1849, they expanded the furnace operations.
The Pennsylvania Bureau of Industrial Statistics recorded in 1879 that Harmony Forge had three double-puddling furnaces and four heating furnaces, 114 employees, and a production capacity of 6,000 tons, producing $350,000 worth of iron per year.
As of 1883, when John Blair Linn published his History of Centre and Clinton Counties, Pennsylvania, the furnace was being operated by J.M. McCoy's son, Frank. The property then consisted of a blast furnace, charcoal forge, puddling mill, rolling mill, and wire mill.
By that time, the iron industry in central Pennsylvania was rapidly declining. In 1911, Harmony Forge was one of only two furnaces in the county still operating. It, too, soon closed.
The mansion on the site is believed to have been built between 1793 and 1820. Among its occupants were Joseph Green, James Irvin, James Harris Linn, and the McCoy family.
The mansion has changed ownership several times over the past century. It is one of the few original structures on the property still standing, and it has been renovated to maintain its historic features. Augmenting the mansion's bed-and-breakfast business, the nearby barn serves as a venue for weddings and other events.
The Harmony Forge property includes the remnants of the canal built by the Bald Eagle and Spring Creek Navigation Company. The canal provided a link from Harmony Forge and other iron forges near Bellefonte to Lock Haven, where it connected to the West Branch Division of the Pennsylvania canal.
Although the canal improved commerce, the construction of a railroad and a devastating flood in 1865 spelled its end. Since that time, most of the canal locks have been destroyed, leaving the 2,000-foot section on the Harmony Forge property as a reminder of the canal.
Ishaan Anavkar
---
Sources:
Linn, John Blair. History of Centre and Clinton Counties, Pennsylvania. Philadelphia: Louis H. Everts, 1883.
Mulfinger, Ira. Some Early Ironmasters Homes of Centre County. University Park, Pa: Pennsylvania State University, 1974.
National Register of Historic Places, Harmony Forge Nomination Form, 1979.
Pennsylvania Bureau of Industrial Statistics. Pt. 3 1878-1879 : Annual Report of the Secretary of Internal Affairs of the Commonwealth of Pennsylvania. Pt. III, Industrial Statistics, 1879. Dept. of Internal Affairs, Bureau of Industrial Statistics. http://archive.org/details/pt318781879annua00penn (Accessed January 31, 2022).
---
First Published: April 3, 2022
Last Modified: March 6, 2023