McCoy's Dam on Spring Creek provided hydroelectric power for Centre County during the first half of the twentieth century. It was idled for five decades before being razed in 2007 to improve the creek's water quality.
A wooden dam in Muncy Gap south of Milesburg was built in 1796 to provide water power for Harmony Forge. In 1817, James and Joseph Miles built a charcoal-fired blast furnace at the site. Ownership was transferred in 1849 to a partnership consisting of James Irvin, Moses Thompson, James Harris Linn, and Dr. John M. McCoy.
The new owners, operating as Irvin, McCoy & Co., rebuilt the furnace and expanded its capacity to produce iron bloom and rolled products. Irvin withdrew from the partnership in 1860 and Thompson sold his interest in 1865.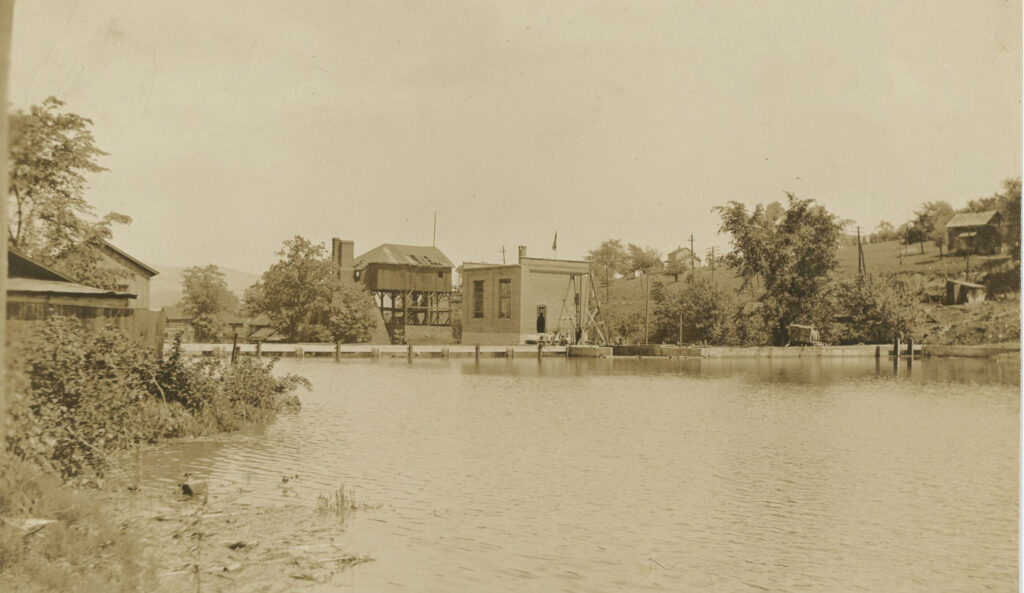 McCoy and Linn built a new furnace and added a chain mill. In 1883, McCoy & Linn Co. had large holdings of iron-bearing land in Patton Township, having taken over Andrew Carnegie's Scotia mines and neighboring ore deposits, and employed 200 workers in its various businesses.
After 1905, ironworks declined as steel largely replaced wrought iron. The rolling mill was leased in 1915-16 to Alpha Metal Co. and used to produce brass and bronze rods. Alpha became Titan Metal and moved to a larger site on Logan Branch in 1919. Company financial records for McCoy & Linn reveal reduced operations after 1917. The blast furnace was retired in 1919 and the company closed its books in January 1925.
In 1926, John McCoy, son of Frank, built a 12-by-225-foot cement/wood crib dam at the site of the former ironworks to generate hydroelectric power for sale to Keystone Power Corp. The dam was rebuilt following the St. Patrick's Day Flood of March 1936.
The McCoys were instrumental in other local businesses including the Milesburg Lumber Co. and the Bellefonte Electric Co. In 1950, after construction of a coal-fired powerplant at Milesburg, hydropower generation ceased on Spring Creek.
The dam and surrounding lands were sold to West Penn Power in 1951. Except for fishing below the dam and occasional kayakers, McCoy's Dam stood idle for the next 57 years.
In the early 1980s, the Pennsylvania Fish & Boat Commission (PFBC) acquired the dam and 25 acres of property, including remnants of the canal that ran from Lock Haven to Bellefonte (destroyed by flood in March 1865). West Penn Power donated its holdings and closed its Milesburg substation in 1984.
In August of 2007, the dam was razed by PFBC to improve water quality and eliminate a safety hazard. The dam had no functional purpose after 1950. Removal was on the drawing board since the 1980s and was viewed favorably by most concerned parties.
Prior to and following the dam's removal, restoration of Spring Creek was required. This included sediment sampling, water quality monitoring, fish surveys, bank stabilization, riparian buffer restoration, historical signage, and public access development for anglers and kayakers.
The total cost for removal and stream restoration was about $450,000. Two thousand linear feet of Spring Creek were restored to free-flowing status. The restoration was completed in 2011.
Jon Nelson
---
Sources:
Detar, Jason, Dave Kristine, and Spring Reilly, "Restoring Spring Creek: McCoy-Linn Dam Removal and Habitat Enhancement Project." Pennsylvania Angler & Boater (Jan/Feb 2011).
Ombalski, Katie, "McCoy-Linn Dam Removal and Restoration." ClearWater Conservancy (May 9, 2009). https://conservationtools.org/library_items/436-McCoy-Linn-Dam-Removal-and-Restoration-Project. (Accessed April 22, 2022).
Smeltz, Adam. "Breaking McCoy Dam, Crews working to remove historic Spring Creek structure," Centre Daily Times, August 21, 2007.
"Bellefonte Industry & Enterprise: McCoy & Linn's Iron Works," Centre Democrat, May 24, 1883.
"New Power Plant at M'Coy's Dam is Now in Operation," Centre Democrat, June 10, 1926.
"McCoy's Dam is Sold for Quarter Million Dollars," Centre Democrat, July 5, 1951.
"McCoy Linn Iron Company financial books, 1850-1925." Holdings in Historical Collections and Labor Archives, Pattee Library.
---
First Published: July 25, 2022
Last Modified: February 22, 2023