The Soldiers and Sailors Memorial and Andrew G. Curtin statue in Bellefonte honor Centre County veterans and Pennsylvania's Civil War governor. Dedicated on June 8, 1906, the memorial and statue stand in front of the county courthouse on the Diamond in the center of town.
Approximately 3,800 names on twenty bronze panels honor Centre County veterans from the American Revolution, War of 1812, Mexican-American War, Civil War, Spanish-American War, and Philippine-American War. With Curtin's bronze sculpture at center, "War" and "Peace" reliefs flank the arched Barre granite memorial.
Upon the death of Curtin in 1894, efforts began for a memorial to the "Old War Governor." Curtin, a Bellefonte native, was one of President Abraham Lincoln's most loyal supporters during the Civil War. He later served three terms in the U.S. House of Representatives.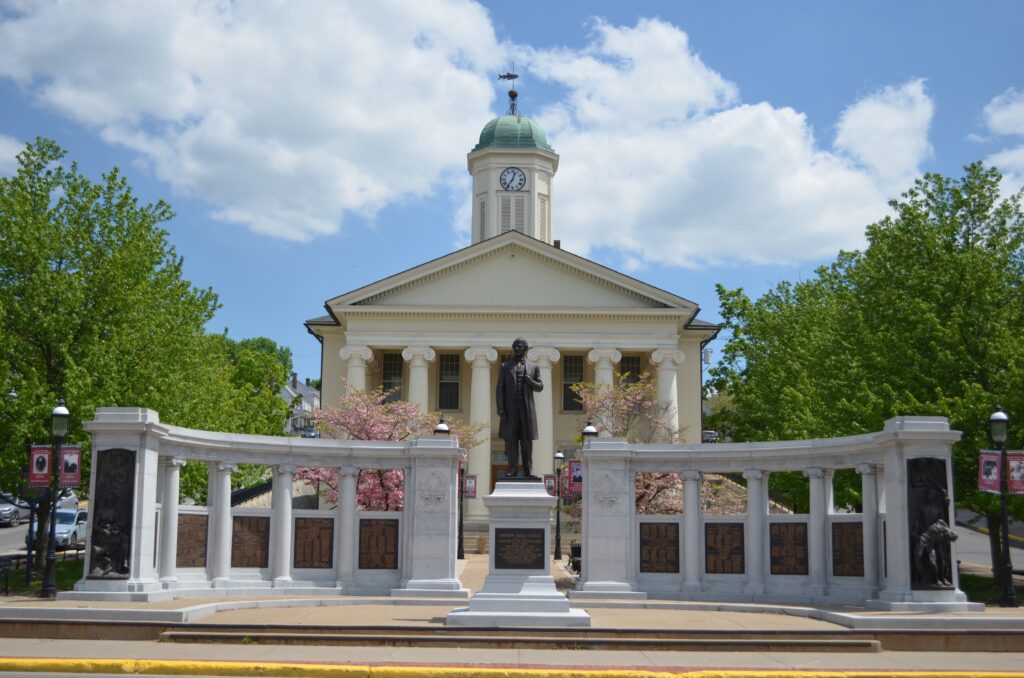 The project was delayed repeatedly, but it was revived with the decision to include a memorial to local veterans who served in American wars. A committee, chaired by Dr. George W. Atherton, made an unsuccessful attempt to have the well-known sculptor George Grey Barnard, a Bellefonte native, undertake the project.
By April 21, 1904, the committee included Governor Samuel W. Pennypacker, former Gov. James A. Beaver, county commissioners, and others. Joseph Miller Huston, a Philadelphia architect, designed the monument. Huston also designed the state capitol in Harrisburg. In July of 1904, a construction contract was awarded to Van Amringe Co. of Boston at a cost of $33,000. The project was funded by state, county, and private contributions.
The 1906 unveiling included a military parade featuring bands, the Logan and Undine fire companies, Grand Army of the Republic members, and soldiers from nearby military posts. The large reviewing stand, which seated about 300 people, was covered with a 60-foot American flag.
Guests included members of Gov. Curtin's family. Among the speakers were Gov. Pennypacker and former Gov. Beaver. Several hundred local school children sang "America" and "The Star Spangled Banner."
In 2017, Centre County and the state Historical and Museum Commission funded a $100,000 project to restore and preserve the memorial and statue. AP Architects of State College oversaw the project, which was completed in 2019.
Matthew Maris
---
Sources:
Centre Democrat, April 21, 1904.
Democratic Watchman, June 10, 1904, June 8, 1906.
Pierce, Edward, "Soldiers and Sailors Monument and Curtin Memorial." Centre County Heritage 1956-1975, 117-122.
Valeschi, Leon, "Bellefonte historical monument to be repaired and preserved." Centre Daily Times, May 23, 2017.
---
First Published: July 26, 2021
Last Modified: July 7, 2022