Weather World is a weekday weather telecast begun in 1957 by Charles Hosler, dean of Penn State's College of Earth and Mineral Sciences, who wanted to provide more accurate forecasts for Pennsylvanians.
Since its inception, many professional meteorologists have received their initial television experience on Weather World and have gone on to provide forecasts for local television stations, the National Weather Service, the Air Weather Service, the Weather Channel, and AccuWeather.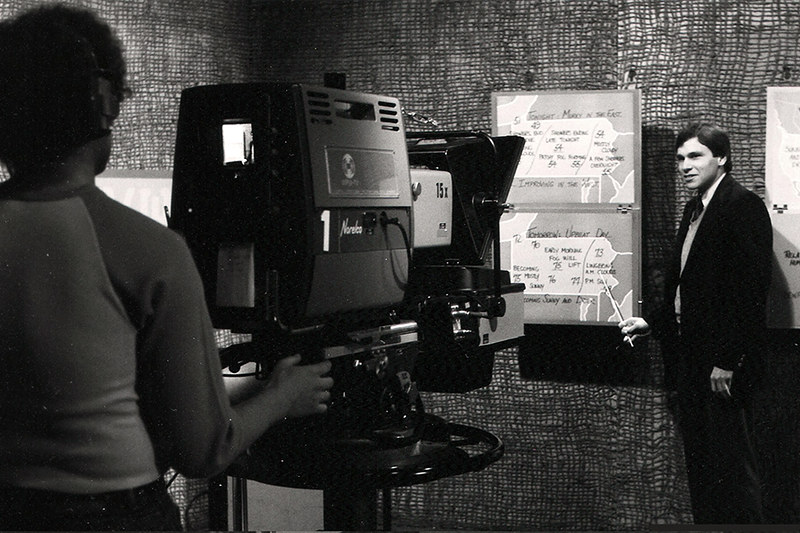 Hosler, a professor in the Meteorology Department, had presented the weather on the radio for a decade. He thought weather projections on local television stations too often were vague, and that inspired him to start telecasting a midday report from the basement of the Sparks Building at Penn State.
The initial show used only a chalkboard with a single camera. Early broadcasts were transmitted by microwave to Altoona, where Weather World aired on WFBG-TV (Channel 10). To prepare his six-minute forecasts, Hosler plotted surface observations on the map each morning at 6 o'clock.
As weather forecasts improved in the 1960s, Weather World continued on WPSX-TV (the predecessor of WPSU-TV) and featured graduate students and faculty from the Meteorology Department. In 1983, meteorology professors Fred Gadomski and Paul Knight inherited Weather World. They expanded the show to fifteen minutes.
In an interview, Knight said he and Gadomski wanted to go beyond a simple weather forecast. "There is a large hunger for weather information that has some depth," he said. Weather World began offering an analysis of the weather and a meteorological explanation for weather projections. In addition to projected temperatures and precipitation, Weather World began to include wind patterns and probability of weather patterns.
Weather World, currently hosted by meteorology faculty members Jon Nese and Marisa Ferger, airs weekdays at 5:30 p.m. on WPSU-TV and at 5:45 p.m. on the Pennsylvania Cable Network.
Arielle Lim
---
Sources:
"History of Weather World." http://weatherworld.psu.edu/history.htm (Accessed March 1, 2021).
Pennsylvania Inside Out: Weather World Anniversary. Weather World. http://wpsu-client-assets.s3.us-east-2.amazonaws.com/podcasts.wpsu.org/Pennsy03282007173000.mp4 (Accessed March 1, 2021).
---
First Published: May 20, 2021
Last Modified: October 14, 2022