Wallace "Wally" Triplett was a trailblazing Penn State athlete who was the first Black student to earn a varsity letter on the football team and the first drafted by the National Football League.
A native of La Mott, Pennsylvania, Triplett, was an outstanding student and multi-sport athlete at Cheltenham High School. In 1944, he was offered a scholarship to play football at the University of Miami. At the time, the university did not enroll black students. Upon receiving the letter, he knew there must be a mistake. Triplett responded to the offer with a letter of his own. "Just so you know, I am a Negro," he wrote. The scholarship offer was rescinded and Triplett kept that letter for the rest of his life.
In contrast, Triplett, who earned an academic scholarship, was welcomed by Penn State's coaches and team, many of whom were military veterans. In other ways, however, Triplett was not welcomed. He could not live in the university's dorms because they were not integrated. Like many other Black men, he lived at Lincoln Hall, a rooming house in State College.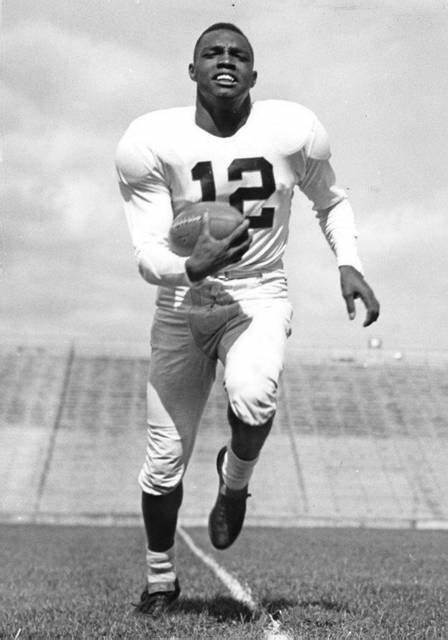 Triplett was one of hundreds of Penn State students to boycott barbershops in State College because they refused to serve to Blacks. As a result of the protest, money was raised to open a barber shop that served Blacks.
The 5-foot, 10-inch Triplett became a standout on Penn State's football team as a halfback and kick returner. In 1946, Penn State was scheduled to play Miami. Penn State was asked by university officials to leave their black players at home. The team held a meeting and voted to skip the Miami game.
Two years later, race was an issue again when Penn State was invited to play in the Cotton Bowl. As was the case at Miami, Cotton Bowl officials suggested that Penn State leave the Black players home. "We are Penn State," team captain Steve Suhey said, adding there was no need to meet.
When Penn State arrived in Dallas for the game, they learned that the team would be housed in nearby military barracks because hotels in the city did not support integration. Triplett and teammate Dennie Hoggard were first blacks to play in the Cotton Bowl. Triplett scored the touchdown that tied the game against Southern Methodist University13-13. Triplett was inducted into the Cotton Bowl Hall of Fame in 2018.
As a senior in 1948, Triplett had 424 rushing yards, 90 receiving yards and six touchdowns. He ranks second in Penn State history with a 16.5 punt return average (280 yards on 17 returns).
Triplett was drafted by the Detroit Lions in the nineteenth round of the 1949 NFL draft. He set the league's single-game record with 294 yards on four kickoff returns, including a 97-yard touchdown against the Los Angeles in 1950. His 73.5-yard kickoff return average is still the NFL single-game record.
Triplett erved in the U.S. Army 594th Field Artillery Battalion during the Korean War. After the war, he was traded to the Chicago Cardinals. During four NFL seasons, Triplett played in 24 games.
After retiring in 1953, Triplett became a teacher in Detroit. He also worked for the Chrysler Corporation. Later in his life, he worked as an usher at Comerica Park, the home of the Detroit Tigers baseball team.
Triplett and his wife, Lenora, had four children. He died in 2018 at the age of 92.
Patricia Kleban
---
Sources:
Benbos, Dana Husinger. "Wally Triplett, the first Black draftee to play in the NFL and a letter that change everything," USA Today, February 28, 2021.
DeCamp, Scott. "This is Wally Triplett; A Lions legend hidden in plain sight." MLive.com (Accessed October 30, 2021).
"Former Nittany Lion standout, first African-American NFL player Triplett passes," Penn State News, November 8, 2018.
---
First Published: October 31, 2022
Last Modified: January 7, 2023